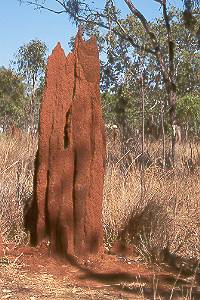 Termitenhügel bedecken das aride Hinterland Australiens zu Millionen.
---
Termite heaps cover the arid Australian outback by the millions.
---

Burt's Bluff, ein großer Felsen nahe Alice Springs, der vor Jahren durch ein Bild von Albert Namatjira, einem eingeborenen Maler, berühmt wurde.
---
Burt's Bluff, a large rock that was made famous many years ago through a picture by Albert Namatjira, an Aboriginal painter.